Bootleg en détail
FIRST LOAD (LARGE CASE)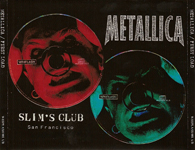 FIRST LOAD (LARGE CASE)
FIRST LOAD (LARGE CASE)
Infos
Type :

Live CD

Titre :

FIRST LOAD (LARGE CASE)

Lieu :

San Francisco, Slim's - USA

Date :

1996-06-10

Matrice :

WHIPLASH 001 A & WHIPLASH 001 B

Source :

Very good

Producteur :

Whiplash

Nb De Disque :

2
Setlist
CD 1 : Intro, So What, Creeping Death, Sad But True, Ain't My Bitch, Whiplash, Fade To Black, King Nothing, One.

CD 2 : Until It Sleeps, For Whom The Bell Tolls, Wherever I May Roam, Nothing Else Matters, Enter Sandman, Last Caress, Master Of Puppets, Overkill, Motorbreath.
Commentaires
Double CD in large case. CD Picture Disc.
Covers
Front cover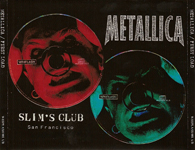 Stats Bootlegs
Cliquez sur une catégorie pour afficher les bootlegs correspondants.
Nombre total de CD : 1455
Statistiques détaillées concernant les CD
Nombre total de DVD : 257
Statistiques détaillées concernant les DVD