Bootleg en détail
ANGELS FROM HELL (NUDE WOMAN ON BACK)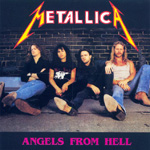 ANGELS FROM HELL (NUDE WOMAN ON BACK)
ANGELS FROM HELL (NUDE WOMAN ON BACK)
Infos
Type :

Live CD

Titre :

ANGELS FROM HELL (NUDE WOMAN ON BACK)

Lieu :

New York, Felt Forum - USA

Date :

1986-12-01

Matrice :

** MMR 9205 ** 92080506/01

Source :

57'24

Source :

Good

Producteur :

Metal Mess

Nb De Disque :

1
Setlist
Ride The Lightning, Guitar Solo, Whiplash, The Thing That Sould Not Be.
Bonus
Charlotte, Coliseum - USA 26-02-1989 : Little Wing, Battery, Helpless, Last Caress, Am I Evil?, Whiplash.
Brooklyn, L'Amour - USA 09-04-1983 : Hit The Lights, The Four Horsemen, Phantom Lord, Jump In The Fire, Motorbreath.
Covers
Front cover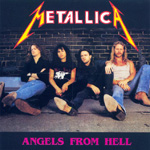 Autres covers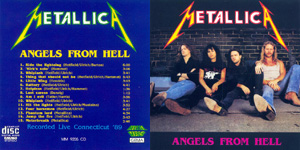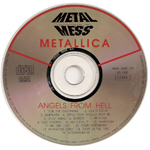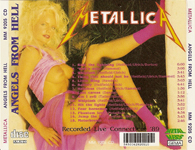 Stats Bootlegs
Cliquez sur une catégorie pour afficher les bootlegs correspondants.
Nombre total de CD : 1455
Statistiques détaillées concernant les CD
Nombre total de DVD : 257
Statistiques détaillées concernant les DVD