Bootleg en détail
MORE THAN JUST METAL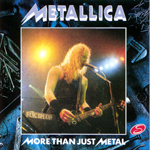 MORE THAN JUST METAL
MORE THAN JUST METAL
Infos
Type :

Live CD

Titre :

MORE THAN JUST METAL

Lieu :

Lund, Olympus - SWEDEN

Date :

1986-09-24

Matrice :

MANUFACTURED IN ITALY BY OPTI.ME.S.991950113132 1243-B*

Source :

55'15

Source :

Good

Producteur :

On Stage

Nb De Disque :

1
Setlist
The Four Horsemen, Damage Inc., Fight Fire With Fire, Am I Evil?.
Bonus
No Life 'Til Leather demos : Jump In The Fire, Motorbreath, Hit The Lights, Metal Militia, Seek And Destroy, The Mechanix, Phantom Lord.
Rehearsals 03-1982 : Let It Loose, Killing Time.
Covers
Front cover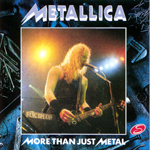 Autres covers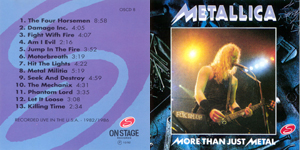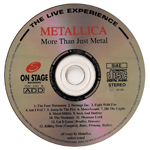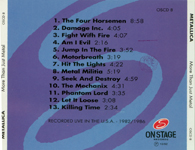 Stats Bootlegs
Cliquez sur une catégorie pour afficher les bootlegs correspondants.
Nombre total de CD : 1455
Statistiques détaillées concernant les CD
Nombre total de DVD : 257
Statistiques détaillées concernant les DVD