Bootleg en détail
LOADIN' BARCELONA (JAMES ON COVER)
LOADIN' BARCELONA (JAMES ON COVER)
LOADIN' BARCELONA (JAMES ON COVER)
Infos
Type :

Live CD

Titre :

LOADIN' BARCELONA (JAMES ON COVER)

Lieu :

Barcelona, Palau St Jordi - SPAIN

Date :

1996-09-23

Matrice :

BOB 007 & BOB 008

Source :

146'43

Source :

Good

Nb De Disque :

2
Setlist
CD 1 : Hero Of The Day, So What, Creeping Death, Sad But True, Ain't My Bitch, Whiplash, Bleeding Me, King Nothing, One, Wasting My Hate, Nothing Else Matters, Until It Sleeps.

CD 2 : For Whom The Bell Tolls, Guitar Solo, Wherever I May Roam, Fade To Black, Kill / Ride Medley, The Shortest Straw, Master Of Puppets, Enter Sandman, Last Caress, Breadfan, Motorbreath.
Bonus
Donington, Donington Park - UK 26-08-1995 : 2 x 4.
Load demo : F.O.B.D.
Commentaires
CD Picture Disc.
Covers
Front cover
Autres covers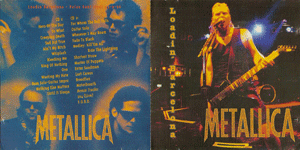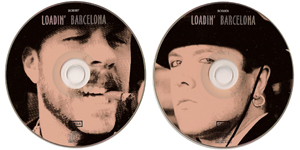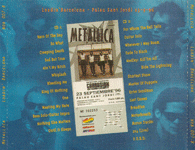 Stats Bootlegs
Cliquez sur une catégorie pour afficher les bootlegs correspondants.
Nombre total de CD : 1455
Statistiques détaillées concernant les CD
Nombre total de DVD : 257
Statistiques détaillées concernant les DVD