Bootleg en détail
THE SECRET GIG WITH NEW SONGS (BLACK CENTER) (MISSPRESS)
THE SECRET GIG WITH NEW SONGS (BLACK CENTER) (MISSPRESS)
THE SECRET GIG WITH NEW SONGS (BLACK CENTER) (MISSPRESS)
Infos
Type :

Live CD

Titre :

THE SECRET GIG WITH NEW SONGS (BLACK CENTER) (MISSPRESS)

Lieu :

London, Astoria II - UK

Date :

1995-08-23

Matrice :

NEW 1 & US 005

Source :

142'34

Source :

Audience

Source :

Good

Producteur :

CBML Records

Nb De Disque :

2
Setlist
CD 1 : Breadfan, Master Of Puppets, Wherever I May Roam, The God That Failed, Fade To Black, 2x4, Kill / Ride Medley, For Whom The Bell Tolls, Devil's Dance.

CD 2 : NIRVANA - Bleach.
Covers
Front cover
Autres covers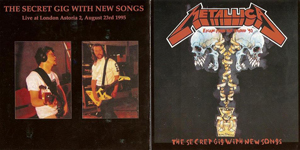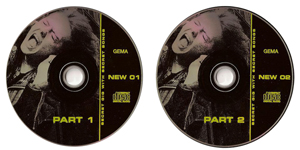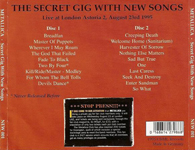 Stats Bootlegs
Cliquez sur une catégorie pour afficher les bootlegs correspondants.
Nombre total de CD : 1455
Statistiques détaillées concernant les CD
Nombre total de DVD : 257
Statistiques détaillées concernant les DVD