Bootleg en détail
USA '89 (GREY LABEL, TITLES ON INSERT) # 2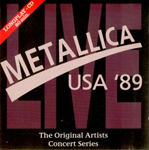 USA '89 (GREY LABEL, TITLES ON INSERT) # 2
USA '89 (GREY LABEL, TITLES ON INSERT) # 2
Infos
Type :

Live CD

Titre :

USA '89 (GREY LABEL, TITLES ON INSERT) # 2

Lieu :

Austin, Frank Erwin Center - USA

Date :

1989-02-03

Matrice :

ARR 93.022

Source :

59'43

Source :

Great

Producteur :

Arriba !

Nb De Disque :

1
Setlist
Blackened, For Whom The Bell Tolls, Welcome Home (Sanitarium), Bass Solo, Master Of Puppets, One, Harvester, Of Sorrow, Eye Of The Beholder, Leper Messiah, Seek And Destroy.
Commentaires
The CD has a different fat print on it and different letters type. The inside cover has ARR 60 and has some text under the from.
Covers
Front cover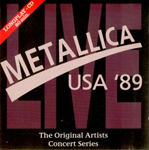 Autres covers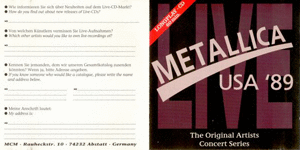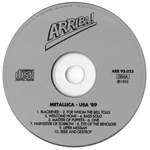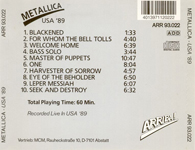 Stats Bootlegs
Cliquez sur une catégorie pour afficher les bootlegs correspondants.
Nombre total de CD : 1455
Statistiques détaillées concernant les CD
Nombre total de DVD : 257
Statistiques détaillées concernant les DVD