Bootleg en détail
DONNINGTON (COLOURED LABEL) (DIFFERENT CODE)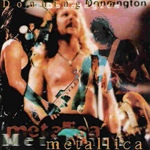 DONNINGTON (COLOURED LABEL) (DIFFERENT CODE)
DONNINGTON (COLOURED LABEL) (DIFFERENT CODE)
Infos
Type :

Live CD

Titre :

DONNINGTON (COLOURED LABEL) (DIFFERENT CODE)

Lieu :

Donington, Donington Park - UK

Date :

1995-08-26

Matrice :

KTS 487

Source :

55'29

Source :

Great

Producteur :

Kiss The Stone

Nb De Disque :

1
Setlist
Master Of Puppets, Wherever I May Roam, 2 x 4, Harvester Of Sorrow, Nothing Else Matters, Sad But True, One, Enter Sandman.
Commentaires
CD Picture Disc. Code printed on this disc : P 1995 – ACUM – KTS – stereo.
Covers
Front cover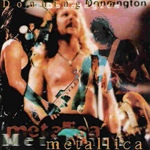 Autres covers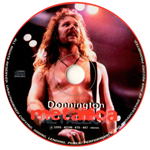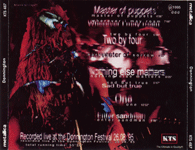 Stats Bootlegs
Cliquez sur une catégorie pour afficher les bootlegs correspondants.
Nombre total de CD : 1455
Statistiques détaillées concernant les CD
Nombre total de DVD : 257
Statistiques détaillées concernant les DVD