Bootleg en détail
S&M / UNTIL IT SLEEPS PART 1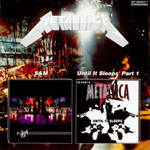 S&M / UNTIL IT SLEEPS PART 1
S&M / UNTIL IT SLEEPS PART 1
Infos
Type :

Pirate CD

Titre :

S&M / UNTIL IT SLEEPS PART 1

Lieu :

San Francisco, Community Theater - USA

Date :

1999-04-21

Matrice :

A-M99-1 & A-M99-2

Source :

148'56

Source :

Great

Producteur :

Agat Company Ltd.

Nb De Disque :

2
Setlist
CD 1 : Ecstasy Of Gold, The Call Of Ktulu, Master Of Puppets, Of Wolf And Man, Thing That Should Not Be, Fuel, The Memory Remains, No Leaf Clover, Hero Of The Day, Devil's Dance, Bleeding Me, Nothing Else Matters, Until It Sleeps.

CD 2 : For Whom The Bell Tolls, -Human, Wherever I May Roam, The Outlaw Torn, Sad But True, One, Enter Sandman, Battery.
Bonus
Until It Sleeps Part 1 : Until It Sleeps, 2 X 4, F.O.B.D.
Commentaires
CD Picture Disc.
Covers
Front cover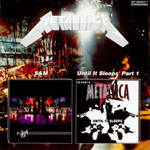 Autres covers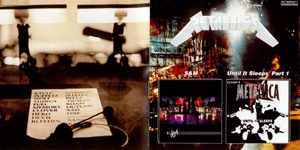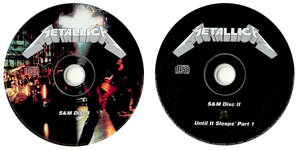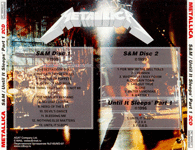 Stats Bootlegs
Cliquez sur une catégorie pour afficher les bootlegs correspondants.
Nombre total de CD : 1455
Statistiques détaillées concernant les CD
Nombre total de DVD : 257
Statistiques détaillées concernant les DVD