Bootleg en détail
20 YEARS OF MOTÖRHEAD, 50 YEARS OF LEMMY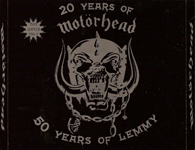 20 YEARS OF MOTÖRHEAD, 50 YEARS OF LEMMY
20 YEARS OF MOTÖRHEAD, 50 YEARS OF LEMMY
Infos
Type :

Live CD

Titre :

20 YEARS OF MOTÖRHEAD, 50 YEARS OF LEMMY

Lieu :

Los Angeles, Whiskey A Gogo - USA

Date :

1995-12-14

Matrice :

DAMAGE CASE 001 & DAMAGE CASE 002

Source :

105'21

Source :

Good

Nb De Disque :

2
Setlist
CD 1 : Overkill, Damage Case, Stone Dead Forever, Too Late Too Late, The Chase Is Better Than The Catch, (We Are) The Road Crew. Overkill, Ace Of Spades, Good Golly Miss Molly, Black Leather Jacket, The Lemmys, Don't forget Your Toothbrush, Unreleased demo.

CD 2 : Ace Of Spades, Sex And Death, I'm So Bad (Baby I Don't Care), Over Your Shoulder, Metropolis, Stay Clean, Liar, Burner, Orgamastron, The Chase Is Better Than The Catch, Born To Raise Hell, Sacrifice, Going To Brazil, Killed By Death, Bomber, Iron Fist.
Commentaires
Double CDs in a large case. Limited to 500 copies.
Covers
Front cover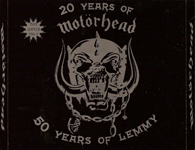 Stats Bootlegs
Cliquez sur une catégorie pour afficher les bootlegs correspondants.
Nombre total de CD : 1455
Statistiques détaillées concernant les CD
Nombre total de DVD : 257
Statistiques détaillées concernant les DVD