Bootleg en détail
LIVE IN CONCERT (BAND ON COVER)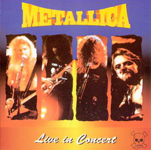 LIVE IN CONCERT (BAND ON COVER)
LIVE IN CONCERT (BAND ON COVER)
Infos
Type :

Live CD

Titre :

LIVE IN CONCERT (BAND ON COVER)

Lieu :

Hamilton, Copps Coliseum - CANADA

Date :

1992-04-14

Matrice :

ABS 1769

Source :

75'31

Source :

Good

Producteur :

ABS Production

Nb De Disque :

1
Setlist
Enter Sandman, Creeping Death, Harvester Of Sorrow, Welcome Home (Sanitarium), Sad But True, Wherever I May Roam, The Unforgiven, Fade To Black.
Bonus
Buenos Aires, Velez Sarsfield - ARGENTINA 08-05-1993 : Master Of Puppets, Nothing Else Matters.
Gothenburg, Frolundaborg - SWEDEN 13-02-1987 : Seek And Destroy, Whiplash.
Commentaires
CD Picture Disc with OBI.
Covers
Front cover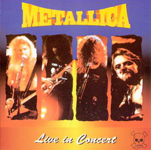 Autres covers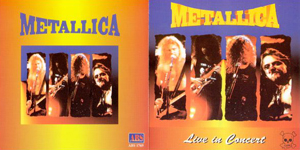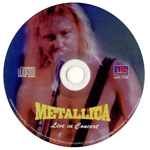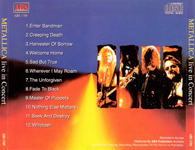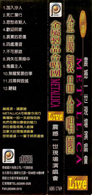 Stats Bootlegs
Cliquez sur une catégorie pour afficher les bootlegs correspondants.
Nombre total de CD : 1455
Statistiques détaillées concernant les CD
Nombre total de DVD : 257
Statistiques détaillées concernant les DVD