Bootleg en détail
LIVE IN CONCERT, AND JUSTICE FOR ALL # 2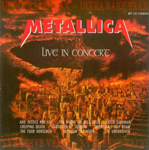 LIVE IN CONCERT, AND JUSTICE FOR ALL # 2
LIVE IN CONCERT, AND JUSTICE FOR ALL # 2
Infos
Type :

Live CD

Titre :

LIVE IN CONCERT, AND JUSTICE FOR ALL # 2

Lieu :

Sacramento, Arco Arena - USA

Date :

1992-01-11

Matrice :

# NOVODISC BR MTCD1104044 1622/03 # IFPI LG81

Source :

76'45

Source :

Good

Producteur :

Top Sound

Nb De Disque :

1
Setlist
Enter Sandman, Creeping Death, Harvester Of Sorrow, Wherever I May Roam, The Four Horsemen, Bass Solo, Through The Never, The Unforgiven, And Justice For All, Guitar Solo, For Whom The Bell Tolls.
Commentaires
Different back : a "Disc logo" on the back cover.
Covers
Front cover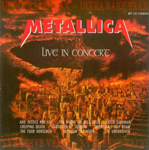 Autres covers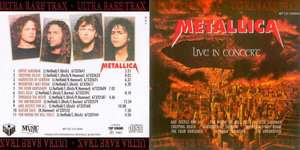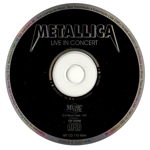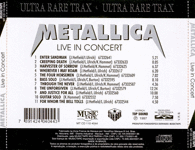 Stats Bootlegs
Cliquez sur une catégorie pour afficher les bootlegs correspondants.
Nombre total de CD : 1455
Statistiques détaillées concernant les CD
Nombre total de DVD : 257
Statistiques détaillées concernant les DVD